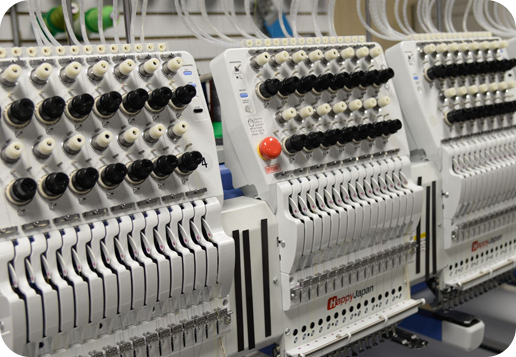 Southeast Minnesota's Place for Embroidery & Screen Printing
Using A-Z Embroidery & Screenprinting LLC will ensure that you receive the highest quality embroidery and screen-printing possible without a hefty price tag. The staff at A-Z is dedicated to excellence and service to ensure that your project will make a lasting impression. We use high-quality materials to give you a great, quality look, and we can create multi-color combinations on nearly anything. A-Z Embroidery & Screenprinting offers extremely competitive pricing without requiring a minimum order quantity. Regardless of the size of your project, we're here to assist you throughout the entire process in order to meet your specific needs.
A-Z offers customers three key advantages that will guarantee absolute satisfaction when it comes to your embroidery, screen printing, or other branded product needs. First, we are a second-generation family-owned business with over 20 years of experience serving schools, non-profit organizations, and businesses in southern Minnesota. Our focus on quality and attention to the needs of our clients routinely delivers results that delight our customers. Second, we employ some of the newest and most technologically advanced equipment available. This allows us to meet your needs with the quality and creativity our customers crave. Third, we offer exceptionally quick turnaround, which translates into projects going from ideas to finished products in as little as two weeks.
A-Z offers the following services:
Robust Merchandise Selection
Computerized Embroidery
Computerized Screenprinting
Multi-color
Custom Designs
Stock Designs
Patches
Contract Pricing
Rush Orders
At A-Z, we can help you determine what design will serve your project best and find the merchandise to use for the project. With our state-of-the-art embroidery equipment, we can embroider practically anything! We have a saying: "If we can hoop it, we can stitch it!" From caps and jackets to seat covers and even golf bags, if it fits in the embroidery hoop, we can create the embroidery design you desire. When it comes to any type of embroidery project, A-Z has the experience, equipment, and creativity to make your project a reality.
By using A-Z Embroidery & Screenprinting, you can count on the following results:
Accurate Design Reproduction
Quality Embroidery/Screenprinting
Prompt Delivery
Customer Satisfaction
A-Z Embroidery & Screenprinting can reproduce any design you have and will make it look amazing. The quality of our embroidery and screenprinting is top-notch, so you can trust that your items will last. We work hard and ensure prompt delivery, so you won't have to worry about the status of your project or if it'll be done on time.
Customer satisfaction is important here at A-Z. We're proud of the fact that we can provide the best quality possible at exceptionally competitive rates, and we'll do everything we can, for new and old customers alike, to make sure you're satisfied with the end results. We're open Monday through Friday, 8:00 a.m. to 4:30 p.m., and we'd love to have you come to our location or give us a call to discuss your embroidery and screenprinting needs.